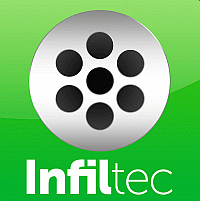 Radon Supply Order Form
If your browser supports Javascript,
you can use this interactive order
form to order your radon control supplies.


| New | Search | Links | Infiltec | Staff | Fun |
RADON CONTROL | About Radon | Radon FAQ | Pictures | Drawings | Fans | Water | Large Buildings | Radon Catalog |
AIR LEAKAGE | About Blower Doors | FAQ | Ducts | Fire | Large Buildings | Contractors | Blower Door Catalog |
OTHER INSTRUMENTS | Personal Seismometers | Infrasound Monitors |Micro-Manometers: Single Channel Dual Channel |
Here's an online form to order Infiltec radon control products. This interactive form will compute your total bill and send the data to Infiltec. Our minimum shipping charge covers most orders, and we will let you know if the actual shipping charge is higher on your order.

Please pick your products from the drop-down list, then type in a quantity and click another field, or press Tab. When you have calculated your total bill, please fill in the ship to and bill to addresses and email the information to Infiltec by clicking the submit button at the bottom of the page. If you want to go back to the online catalog before you submit your order, do not press the "order" link again from the catalog page or you will erase all of your previous input. Use the BACK and FORWARD buttons on your browser instead.

Infiltec does not have secure credit card processing online yet, so we will have to give you the exact shipping charge and total price over the phone (540) 943-2776 and we can get billing information such as credit card numbers.


When you press Submit all of the data on this page will be sent by email to Infiltec. This is not a secure transmission, so you should not send credit card information. If you press Clear all of the data will be erased so that you can change your entries.


| New | Search | Links | Infiltec | Staff | Fun |
RADON CONTROL | About Radon | Radon FAQ | Pictures | Drawings | Fans | Water | Large Buildings | Radon Catalog |
AIR LEAKAGE | About Blower Doors | FAQ | Ducts | Fire | Large Buildings | Contractors | Blower Door Catalog |
OTHER INSTRUMENTS | Personal Seismometers | Infrasound Monitors |Micro-Manometers: Single Channel Dual Channel |
Phone Ordering Information:
To order radon gas mitigation supplies by phone, call (540) 943-2776 weekdays from 7 AM to 4 PM Eastern Time, or email: Infiltec Factory . Orders placed by noon can generally be shipped that day. Infiltec accepts Mastercard, Visa, or Amex, and payment terms are net 15 to customers with established credit. The Infiltec factory hours are 8 am to 4 pm, Eastern time. The minimum order is $25, the minimum shipping charge is $8 unless the item is marked as FREE SHIPPING.

Infiltec
108 South Delphine Avenue
Waynesboro, VA 22980
Phone: (540) 943-2776
Fax: (540) 932-3025
E-mail: Infiltec Factory
Hours: Weekdays from 7 AM to 4 PM Eastern Time


This page copyright © 1996-2020 by , all rights reserved. It was created by , and was last updated on Dec 08, 2020.

Return to
the Infiltec
Home Page.