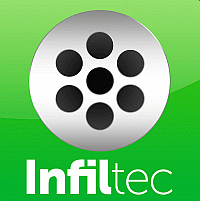 Radon Mitigation FAQ
Answers to the most frequently asked questions (FAQ)
on radon reduction in homes, schools and office buildings.
Send Infiltec your questions.


WARNING: This information is provided as a service to our potential customers, but Infiltec, Inc. can not be
responsible for its use or misuse. Infiltec Inc. does not provide radon mitigation or testing services.

| Home | New | Search | Links | Infiltec | Staff | Fun |
RADON CONTROL | About Radon | Radon FAQ | Pictures | Drawings | Fans | Water | Large Buildings | Radon Catalog |
AIR LEAKAGE | About Blower Doors | FAQ | Ducts | Fire | Large Buildings | Contractors | Blower Door Catalog |
Q & A INDEX:

Q & A:
Q: Will sealing slab cracks/openings reduce indoor radon levels?
A: Unfortunately, sealing slab cracks and openings does not generally have any significant effect in home indoor radon concentrations. This seems strange because we know that radon is mixed in soil gas and it is pulled into the house through cracks by slight pressure differences caused by wind, temperature differences and fan action. The problem is that sealing generally results in a higher concentration of radon in the soil gas, so that even though the sealing reduces the amount of soil gas that gets into the house, the same amount of radon gets in. And that means that the indoor radon concentration remains about the same! Occasionally sealing is partially effective, so you may want to try it. Be sure and use sealants that can stick to dirty concrete (like polyurethane caulks). Even if you are not successful, any slab sealing will increase the effectiveness of a fan powered radon mitigation system.

Q: How much will it cost to fix my radon problem?
A: Your cost will depend a lot on where you are in the US. In areas where there are lot of radon contractors, like the Washington, DC metro area where Infiltec is located, the price may be as low as $800 for a standard subslab depressurization system. However, in areas where there are few radon contractors, the same system may cost two to three times more. Complicating factors that will increase the price include: crawl spaces with exposed dirt, multiple slabs, rock basement walls, sand beneath the slab, no aggregate beneath the slab, and pipe penetrations through fire rated walls. If your home repair skills are above average, you may want to consider do-it-yourself radon mitigation. You can buy all the parts you need for less than $250. See the Infiltec Radon Control Catalog for details.

Q: How long will it take to fix my radon problem?
A: Most mitigation radon work is done during real estate transactions and must be completed quickly. A typical job takes about one man day, and the retest requires one day of closed house conditions, plus two or more days for the radon test. So you can generally get you house fixed and retested in about 4 days.

Q: How do I find a replacement for my old radon fan?
A: Just find the make and model of your old fan, and then check out the drop-in-replacement table on our Radon Fan Guide page.

Q: What are the RadonAway radon fan performance specifications?
A: You can find tables of power, pressure, and air flow performance specifications on our Radon Fan Guide page.

Q: What skills do I need for do-it-yourself radon mitigation?
A: Installation of a typical Active Subslab Depressurization (ASD) radon mitigation system involves advanced home repair skills:
1. drilling a 3" or 4" diameter hole thorough your concrete slab with a hammer drill,
2. digging out a suction pit in the gravel or soil underneath the slab,
3. drilling a 3" or 4" hole through your basement wall,
4. solvent welding 3" or 4" PVC pipe so that you have a run from the hole in the slab to the outside of the house,
5. electrical wiring of the fan (typically mounted outside),
6. coupling the fan to the pipe with flexible PVC couplings,
7. running an exhaust pipe so that radon will not get back into the house or come in contact with anyone. This is generally done by running the exhaust to a location that is at least 10 feet above the ground and 10 feet away from any openable windows, and
8. sealing slab cracks and openings with polyurethane caulk.
For more technical details, see our list of radon mitigation manuals.

Q: How do I select the right fan for my radon mitigation system?
A: Radon fan selection for SubSlab Depressurization (SSD) systems is not an exact science because the performance depends primarily on the porosity of the material beneath the slab. In order to work, the SSD system must create a negative pressure under all parts of the slab so that soil gas containing radon can not leak into the house through slab cracks. Here are some Infiltec rules-of-thumb:
a. Low-Power Fans, like the RP140, work well in SSD systems for houses that have a porous subslab gravel layer and a well-sealed slab. We find that these low-power fans last longer and are quieter, so we recommend them to home builders who are installing SSD during construction. Use 3" or 4" pipe and a single slab penetration.
b. Medium-Power Fans, like the XP151 or XP201, work well for larger slabs and porous subslab gravel layers, or for smaller slabs with less porous subslab material. Use 3" or 4" pipe and a single slab penetration.
c. High-Flow Fans, like the XR261, are the most common fans for retrofit installations because they have the power to overcome both air leakage and the poor subslab porosity caused by lack of subslab gravel. 4" pipe is generally used with these fans with one or more slab penetrations.
c. High-Suction Fans, like the GP501, are used in houses where there is very poor porosity material under the slab, such as sand or clay, and there is low air flow. Use 3" pipe and put in several slab penetrations.
You can find tables of fan power, pressure, and air-flow performance specifications on our Radon Fan Guide page.

Q: What are some common problems for do-it-yourselfers to avoid?
A: Here are some ways to avoid common problems when installing a typical SubSlab Depressurization (SSD) radon mitigation system:
Pipe Size: PVC pipe size of either 3" or 4" diameter (in schedule #20 or #40 thickness) is satisfactory for most SSD systems. 2" diameter is probably too small.
Pipe Connections: Use the recommended PVC pipe fittings and welding solvent. If you don't, the system may not hold up, or it may leak.
Pipe Slope: Slope the pipe and anchor it so that water draining from condensation and rain will not be trapped anywhere. You can not imagine how much water flows back down the pipe because of condensation on the cooler pipe walls! Water buildup in the pipe or fan body may be the most common cause of radon system failure.
Suction Pit: Dig out a large suction pit underneath the slab to reduce the air flow resistance and increase SSD vacuum. Some folks say dig out several buckets of material, and others say to keep digging until your knuckles are bleeding!
System Gauge: Install a vacuum gauge to monitor SSD system performance. The gauge should be installed in the basement as close to the suction hole as possible, but it must be in a place where it can be checked occasionally. As long as the gauge indicates suction, you know that the fan is working properly, although you may not be able to hear it.
Sealing: Don't count on sealing for radon reduction unless it is backed up by a fan system. It seldom works alone. But sealing always improves SSD system performance. Use a polyurethane caulk that sticks to dirty concrete. Latex and silicone caulks do not stick well to concrete.

Q: What are the phone numbers for state and federal radon information?
A:


Q: What should I do about radon in my well water?
A: Here are some links to Radon in Water Information:

Your question could go here! Email the Infiltec radon guru today.
For further assistance, call Infiltec toll free at (888) 349-7236 weekdays from 7 AM to 4 PM ET, or email: Infiltec Factory .



| Home | Search | New | About Radon | Fans | Catalog | Pictures | Drawings | Large Buildings | Links | Fun |

This page copyright © 1996-2015 by Infiltec Inc. all rights reserved. It was last updated on September 30, 2015.

Return to
the Infiltec
Home Page.