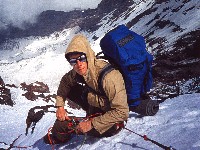 Celebrating the life of
Richard 'Dick' Saum 1944-2000
Obituary

[ Home] [ Obit] [ Memories] [ Mary] [ Climbing] [ Travel] [ Friends] [ Family] [ Links] [ Foundation]

Richard's obituary was published in the Santa Barbara News Press, the Waynesboro News Virginian, and the Winston Salem Journal.
Richard Saum
Richard Lloyd Saum, a longtime resident of Santa Barbara, passed away February 26, 2000, after a courageous fight with brain cancer.

Richard was born in Wilmington, Delaware, November 15, 1944. He grew up in Waynesboro, Virginia, graduating from Waynesboro High School in 1963. Waynesboro is at the foot of the Blue Ridge Mountains, where he acquired a lifelong interest in mountain climbing, and related outdoor activities. Richard attended Michigan State University, graduating with a BS in physics with honors. A teaching fellowship allowed him to pursue graduate studies in physics at Princeton University. His studies were interrupted when he was drafted into the army, but lead to an MS degree. During his army career he worked at Edgewood Arsenal, studying effects of nuclear radiation on equipment and personnel.

After the army, Richard worked on military radar systems for General Electric in Syracuse, NY. He moved to Santa Barbara to work on long-range GE planning. Later Richard went to work at Comptek Research, where he was until his illness, except for a 5 year stint at Raytheon.

Richard's absorbing hobbies were mountain climbing and traveling to out-of the way places. He was widely known among climbers, and he had a number of first ascents to his credit. One of his goals was to climb Mt. Whitney in one day, up and down, at least once every year. Other memorable climbs were the Nose of El Capitan, Canada's Mt. Edith Cavel, and Monte Rosa and the Monch in Europe.

Surviving members of Richard's family are his wife Mary Breitenstein, step-daughter Liza Lamb, granddaughters Chyrelle Breitenstein and Kyra Lamb, parents, Anne and Arthur Saum of Winston-Salem, NC, twin brother of Falls Church, VA, and sisters Jeanne Wine, of Winston-Salem, NC and Christine Saum of Washington, DC.

A Memorial Service will be held Thursday, March 2, at 2:00 at Elings Park, Godric Grove.

In lieu of flowers, contributions may be made to the National Brain Tumor Foundation, 414 Thirteenth St., Suite 700, Oakland, CA 94612-2603.

Richard's friends and family have established the Richard Saum Foundation to support scientific, educational, and charitable projects worldwide.

[ Home] [ Obit] [ Memories] [ Mary] [ Climbing] [ Travel] [ Friends] [ Family] [ Links] [ Foundation]
This page was published on March 26, 2000 by .