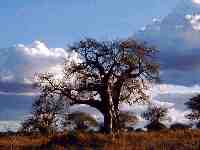 Richard Saum Foundation Projects
Educational, scientific and charitable projects worldwide.

























| Home | Links | Contributors | Directors | Search |
2004 Project:
Teaching Supplies for the Microbiology Department of Dar es Salaam, Tanzania October 2004 Semester:
This project came about in November, 2003 when David Saum and Susan Marino visited a high school classmate of Richard's, Kim Howell, who has been teaching zoology at the University of Dar es Salaam (UDSM) for over 30 years. While at UDSM, David and Susan learned that the microbiology department was in need of textbooks, reference books and laboratory supplies. As you can imagine, in developing countries where the average person lives on a few dollars a day, $150 textbooks are out of reach of students and even professors. The current biochemistry class for 20+ students has one textbook. Students can sometimes borrow it for a few hours, but never overnight.
For the October 2004 semester we have received UDSM requests for the following:
Books Requested:

several copies of Biochemistry by Stryer (1995 or later)
several copies of Principles of Biochemistry by Lehninger (1993 or later)
several copies Molecular Biology of the Cell by Alberts (1994 or later)
several Biotechnology textbooks
teaching CDs
one Genomes by Brown 2nd edition
one Biology by Campbell 6th edition
one Bioinformatics and Genome analysis (Vol 38) edited by Mewes
one Biology of Microorganisms-Brock (10th edition, or 9th)
plus other books on Microbiology, Biotechnology, Molecular Biology, Genomes, Bioinformatics

Lab Supplies Requested:
Right now the UDSM teaching budget is so tight that in the labs they try to reuse tips and work in groups of three. In order to give the students "hands on"experience, UDSM would like to reduce the groups to two at most. The UDSM Microbiology Department has given us this list of their lab needs for their October 2004 semester (15 weeks) of classes:

1.5 ml Eppendorf (microtubes) tubes with safe locks - 20 packs @ 250 pcs

200 microliter tips (yellow tips) - 20 pack @ 250pcs

1000 microliter tips (blue tips) - 20 packs @ 250 pcs

white tips for pipetting 1-5 microlitre - 15 packs @ 500 pcs

Micropipettes, adjustable ( Hamilton or any other): 1000 microliter - 5 pcs, 100 microliter - 5 pcs, 20 microliter - 5 pcs.
PCR Ready to Go beads with the following specifications: - Pure Taq-TM Ready-To-Go- Tm PCR Beads (27-9558-01) made in USA - 0.5 ml about 300 tubes required.
Bench racks that can accommodate both 1.5ml and 2.0 ml Eppendorf tubes.
Floating racks for water bath incubations (for Eppendorf tubes).
One tube of each restriction enzymes Hind III, Hinf I, Hae III with their buffers.
One tube of T4 ligase.

9/27/04 Project Status:

3/17/04 Air mailed 10 lbs of lab supplies (5 refurbished pipetters, tips, tubes, racks) donated by the Roel Nusse laboratory to UDSM in one box from CA.
5/25/05 Submitted grant request to the Africana Librarians Council Book Donations Committee. Awards made in November.
6/08/04 Shipped 120 lbs of biochemistry and molecular biology textbooks to UDSM in boxes # 1-7 from VA.
6/18/04 Shipped 62 lbs of biochemistry and molecular biology textbooks to UDSM in boxes # 8-11 from VA.
6/19/04 Ordered Bioinformatics book by Mewes from German bookstore and had it shipped to UDSM from Germany.
6/20/04 Ordered Genomes 2 book by Brown from UK bookstore and had it shipped to UDSM from the UK.
7/10/04 Filed Richard Saum Foundation incorporation papers and 501(c)(3) application.
7/21/04 Shipped 52 lbs of biochemistry and molecular biology textbooks to UDSM in boxes # 12-14 from VA.
7/23/04 Shipped 55 lbs of biochemistry and molecular biology textbooks to UDSM in boxes # 15-16 from VA.
7/26/04 Created this Richard Saum Foundation web page.
8/17/04 Air mailed 22 lbs of lab supplies (tubes, bench & floating racks, barrier & low retention tips) to UDSM in 2 boxes from CA.
8/23/04 Air mailed 55 lbs of pipette tips and Eppendorf tubes to UDSM in boxes # 17-20 from VA.
9/07/04 DHL shipment of restriction enzymes on cold packs in box 21 from CA (arrived safely 9/10/04)
9/10/04 Air mailed 8 lbs with 11 refurbished pipettors, PCR beads, pipet tips, etc in box 22 from CA
That completes the shipments for the October UDSM semester. Thanks everyone!

Some Lessons Learned During this Project (preliminary):

As of 9/27/04, only USPS airmail and DHL boxes had been received by the UDSM Microbiology Department! The USPS m-bag book shipments have not arrived.
Books can be shipped to Tanzania (or almost anywhere in the world) for $1/lb using the USPS mail-bag rate, but it appears to take 3-4 months to arrive at the Tanzanian addressee! Here are a description of M-Bag shipping.
USPS air mail parcel post shipping to Tanzania costs $3-$5 per pound, with a USPS estimated delivery time of 4-10 days, but it appears to take 1 month to arrive at the Tanzanian addressee!
For perishable items that must be shipped in cool packs, DHL may provide the quickest delivery since it does not transit the Tanzanian postal system.
eBay is a good source for used textbooks, particularly if you have weeks or months to wait for the best deals.
ABE Books, FetchBook, and Discount Text Books are good sources for new and used textbooks.
2005 Project Ideas:
We are looking for ideas for 2005 projects. Please contact with your suggestions.

Some Ideas for 2005:
Continue supporting the UDSM Applied Microbiology Unit with teaching supplies.
Support zoology projects in Tanzania with Professor Kim Howell of the UDSM Zoology Department.
Support translation of Ayn Rand's novelette Anthem into Kiswahili.
Support organizations that work with mountain climbing porters, such as the International Mountain Explorers Connection.
Support organizations that preserved climbing areas and keep them open, such as the Access Fund.
Supply microbiology textbooks to Afghanistan universities with the help of organizations such as Afghans 4 Tomorrow.
On 9/17/04 RSF sent 28 lbs of microbiology textbooks to Afghanistan for donation to regional universities. We will evaluate the results of this shipment to determine if RSF should devote resources for an Afghan university project in 2005.




This page copyright © 2004 by , and it was last updated on September 27, 2004.

Return to
the RSF
Home Page.